Fleur-tatious Floral Design is not your typical florist.  Located in Dorchester Massachusetts, our focus is on creating original floral designs for our clients that invoke traditional european and garden style elements.  With our love and extensive use of rich colors and textures we are confident the recipients of the designs will surely note a difference in our quality, choice of flowers, and presentation setting us apart from other florists.  We do not affiliate ourselves with any wire services florists and avoid using stock photographs and recipes in our approach to designing.  We offer daily delivery in Abington, Braintree, Bridgewater, Boston, Dorchester, East Bridgewater, Milton, Quincy, South Boston, Whitman, West Bridgewater and Weymouth.
If you have recently become engaged we congratulate you on your upcoming wedding and want to thank you for considering Fleur-tatious Floral Design as you florist to provide flowers for your special day.  Our goal at Fleur-tatious Floral Design is to help make the floral arrangements for your dream wedding become a reality through careful planning, consultation and coordination.
Whether you are planning an intimate bridal shower at your home or a company retirement party for hundreds, we can not only help you with any floral design needs, but we can also help you plan all aspects of your event.  During our years in business we have developed a great network of vendors and professionals to suit every need.  We can also offer day of event coordination to make sure all the moving pieces easily come together to complete the perfect event.
Decorate your home or business for the holidays in style!  Allow Fleur-tatious Floral Design to be your florist to provide wreaths, garlands, mantle pieces, and beautifully adorned trees for your upcoming holiday parties.  During this busy season allow us to lighten your load and deck the halls for you transforming your home for the holidays.
Valentine's Day
This year Valentine's Day falls on Wednesday, February 14th.  Give us a call and let us help you pick out the perfect arrangement to send to your loved one.
Call to order your arrangement today, 1-508-697-1555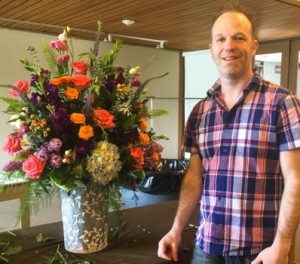 Christian Young, Owner Fleur-tatious Floral Design, Dorchester, MA
Fleur-tatious Floral Design is a floral design studio, located in Dorchester Massachusetts, that specializes in detailed and innovative floral designs. We offer floral arrangements for all occasions, weddings, special events, funerals, and custom orders. We offer daily delivery in Abington, Braintree, Bridgewater, Boston, Dorchester, East Bridgewater, Milton, Quincy, South Boston, Whitman, West Bridgewater and Weymouth.
Fleur-tatious Floral Design is dedicated to making the designs you order unforgettable. We are not your typical retail florist that offers FTD or Teleflora "cookie-cutter" designs. By not affiliating with any of these florist companies, and operating a home based business in Dorchester, that charge substantial fees to their consumers, you can be assured you will receive more value in designs you purchase.  Instead, we offer our clients exclusivity and more artistry by custom creating each floral arrangement. All of the photos featured are our own designs.
We use only the freshest and beautiful flowers that are hand-picked by our designer from the New England Flower Exchange.  Make Dorchester based Fleur-tatious Floral Design your go to florist today!
Florist Accolades
What are our clients saying about us?
Please read what some of our clients are saying about our work below.  For more in depth reviews regarding our wedding services please see our profile on WeddingWire.com.
Ordering flower arrangements over the phone has always been a daunting task for me…never knowing what the flowers will look like!? Please accept my deepest thanks for making the funeral arrangement 'Spectacular'. The family made a point of saying that those flowers would be going home with them. I hope that new customers discover your talent, I know people were noting your card! Thank you for being easy to work with, for your professionalism and creativity. You honored our friend the way we hoped he would be honored.
Where do we even begin? You made our wedding simply fabulous!!! You listened and really took an interest in making this day special for us including going the extra mile to get my special David Austin Roses.  Not only were our flowers fresh, gorgeous and exactly what we were looking for, you could tell they were assembled with love and expertise. You saved the day at our reception by not only strategically placing our flowers but also by designing the shape of the table lay out and overall chabby chic theme. Your caring, creative and wonderful personality will make us and our families always seek you out for all our flower purchases.
As always I found something to love at Fleur-tatious Floral Design. This time it was one of Greg Marmai's framed photographs. I chose a photo of a precious cherub statue that has already captured the hearts of everyone who has viewed it.
On behalf of the National Adoption Committee we would like to extend our sincere thanks for the beautiful roses that you donated for National Adoption Day that was held at in Brockton on November 16, 2012. The families were delighted when given their rose. You truly helped make this day a success!
Thank you for your generous gift for the kids christmas party and welcome to Bridgewater. Your special ways and generous heart make a beautiful difference. Thank you so much.
Thank you so much for your generous support of the Bridgewater Business Association and this years Autumn Fest. With your help we had our best event ever! I hope you enjoyed attending and we look forward to having you on our team!
On behalf of my family and I, I wish to thank you for the gorgeous funeral arrangement you made for my late husband. They were so fresh and lovely we were so pleased. I will certainly recommend you to my friends. Thank you also for the lovely card you sent me.
Thank you for the donation of carnations to the 2012 Survivor Reception at the relay for life. The carnations are given to a Survivor prior to the Survivor Lap. When they meet their caregiver on the track, they hand off the carnation ot the caregiver, then they walk back together. Your support is greatly appreciated.
We want to thank you for putting together such a beautiful flowers for our wedding. Your special touch and personal concern made us feel very special. You are a wonderful person and we wish you the best of luck with your business.
Thank you for all the beautiful flowers at my wedding. You are truly talented! Thank you for you patience and guidance. I continue to refer you to people! — Kim and Drew
I was honestly so blown away by Christian's work. I feel like he knew my vision before I even did and ran with it. He was completely accommodating to my requests and created the most beautiful pieces to enhance both my ceremony photos and reception photos. My most favorite pieces were the altar pieces and the centerpiece for the place cards. Thank you so much for everything, Christian. I will for sure be referring you to all of my future south shore brides! — Lea
Christian, on behalf of my family I would like to truly thank you for the absolutely beautiful arrangements you created for my dad's funeral this past week. You were so pleasant to work with and really captured the essence of what we wanted to express through flowers. Thank you so very much. — Nancy
Christian is so amazing!! Working with him was so easy! At our first meeting, I thought that I was walking in so prepared with my lists and swatches, but halfway through I realized I had no idea what I was doing and Christian made me feel so at ease! I felt so comfortable working with Christian, he was my best vendor! I only needed to give him a few photos of what I had in mind for my wedding and he took it and ran with it and I knew I could trust him. He took care of all of my bouquets, lapels, the centerpieces, ceremony décor, and small flower balls (I don't remember the name of them) for my flower girls. He was even able to remain calm and come through for us when I messed up our order and realized the day of the wedding we were short one lapel for one of the kids in my wedding party – he remained totally calm, and just put one together for me right there in the venue. He's such a beautiful, amazing, down-to-earth guy who has absolutely beautiful products. I only wish I could share the photos because words alone cannot describe how wonderful he is!! — Courtney & Mark
We are pleased to show you a collection of work we have completed over the course of years.  Our portfolio page has a selection of designs which included work categorized into Wedding, Everyday, Sympathy, Fruit Baskets and Holiday pieces.  Please click on the buttons to the right to view our gallery.